eBay Automations app lets you automate your listings abandoned carts and watch lists by sending custom offers to potential buyers. Add your existing products into campaigns and trigger them when an eBay listing becomes eligible.
On This Page
Connect eBay Account
Global Settings and Starting App
Campaign Creation and Activation
Eligible Listings
Product Groups
Logs
Message Offer
Sending Limits & Expired Offers
Changing Plans Between Standard & Pro
Connect eBay account
Before adding any products to a campaign you must connect your account.
In the app, click eBay on the left sidebar.
Click Add, and set a name and group.
Follow the onscreen prompts from eBay.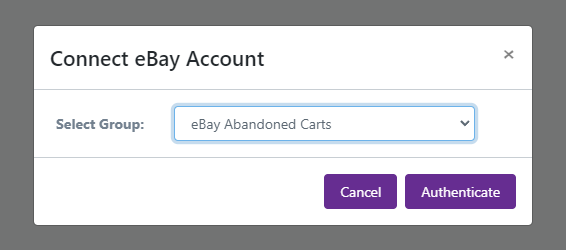 Global Settings & Starting App
On the settings page:
Select your eBay account from dropdown list.
Select eBay Marketplace
From Select Frequency option add the schedule you would like the app to run on. The below screenshot is set to run every 15 minutes.
Once you are finished adding settings click Save and Start. Campaigns will get triggered on this schedule after you create and activate them.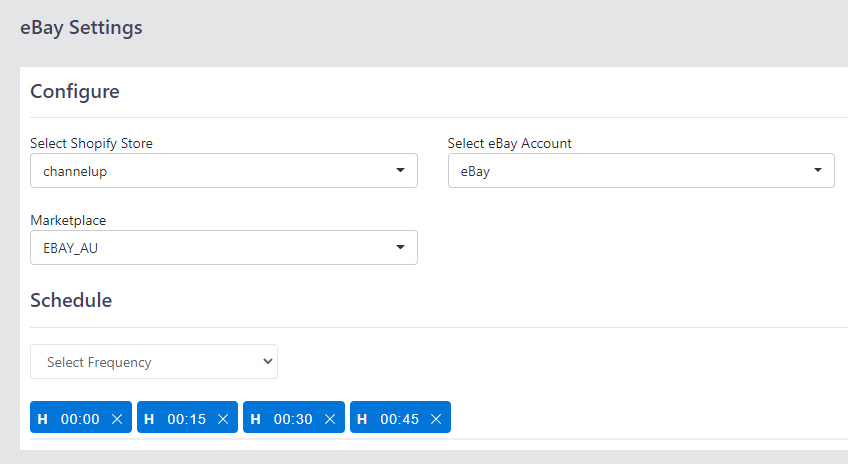 Campaign Creation & Activation
On the campaigns page you can view all your campaigns and create new ones.
Click the New button to create a new campaign, and give it a name.
Select Currency that matches your marketplace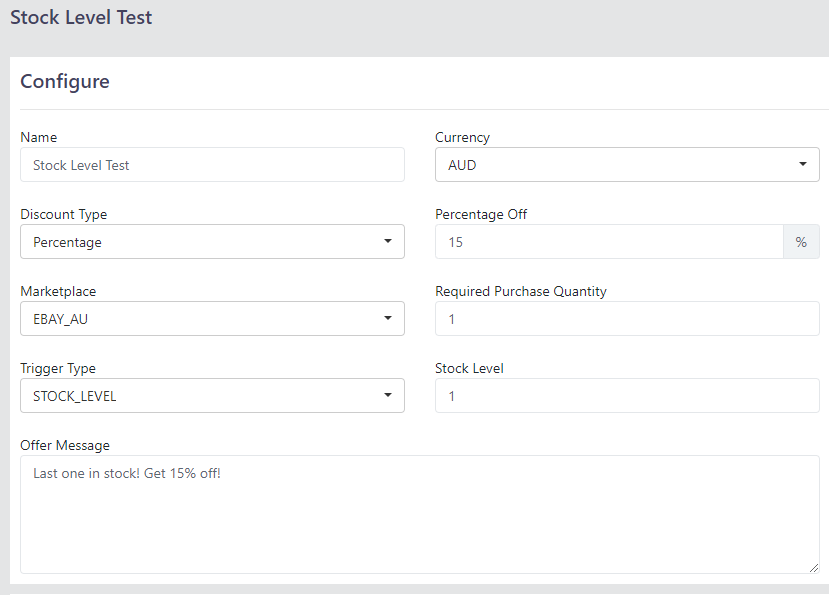 Discount Type has 2 options:
Percentage off - all products in campaign will be discounted by this percentage. Minimum is 5%
New Price - all products in campaign will be set to this price. Price must be less than listing price.
Marketplace - We currently support 4 marketplaces and the campaign marketplace must match the marketplace set on settings page.
Required Purchase Quantity - This amount defaults to one but you can set it to any quantity that is required to be purchased before the offer is applied to buyer.
Trigger Type has 2 options:
Schedule - uses the schedule on settings page to send out offers when products become eligible to send. The listing is locked for 48 hours after sending before it can be sent to buyers again. The same buyer cannot get the offer again even if they are still watching or have added it to their cart.
Stock Level - when then stock level reaches this amount in your store the campaign will be triggered.
Offer Message - Enter the message you want your buyers to see when the receive the offer.
Click Save so you can add products to campaign.
In the bottom panel, click Add SKU and add the products you wish to include in this campaign. If you would prefer to add products in bulk check Product Groups section for more information.

Click Save, and then click Activate.
Your campaign will then be triggered on the next scheduled run based on settings page.
Eligible Listings
The eligible listings page shows all listings that we have retrieved from eBay that have been added to cart or are currently being watched by buyers.
Once a campaign is triggered for these products they will be removed from the list till they become eligible again.
eBay will lock a listing for 48 hours after an offer is sent.

Product Groups
You can group products together so you can bulk add to a campaign. Go to Groups page and create a new group by clicking Add Group button.
Go to Products page and filter for the products you wish to add to this group. Once selected you can add to the group.
There are 2 methods for adding to a group.
Selecting the check boxes of rows and then clicking Add Selected button > Selecting Group
Filtering products and clicking Add Results button > Selecting group

Logs
On the logs page you will find messages from eBay regarding data flows between app and eBay. You can check for errors as to why a product may not have triggered a campaign.

Message Offer
Buyers who are watching the listing or who have added the listing to their eBay cart and not checked out will receive a message. Based on above example campaign it will show as this: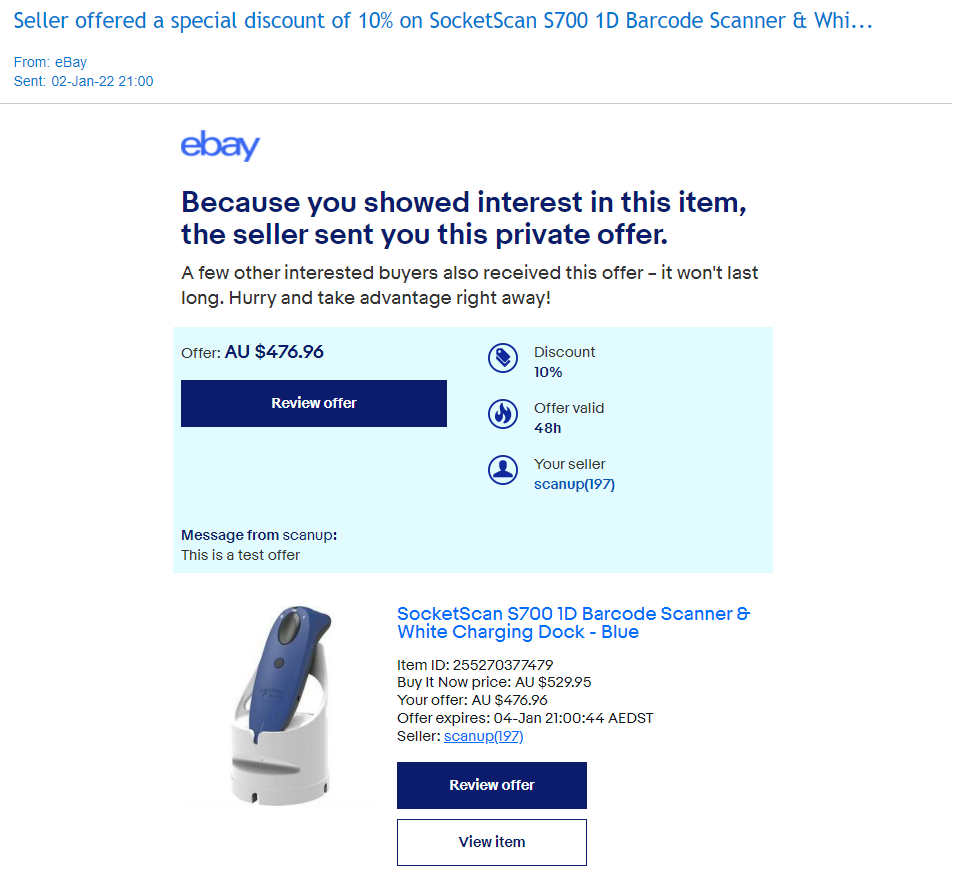 Sending Limits & Expired Offers
If you have already sent an offer to a buyer who is watching a listing that buyer will not become eligible to receive another offer for that listing. If they stop watching and watch again it will not trigger their eligibility again.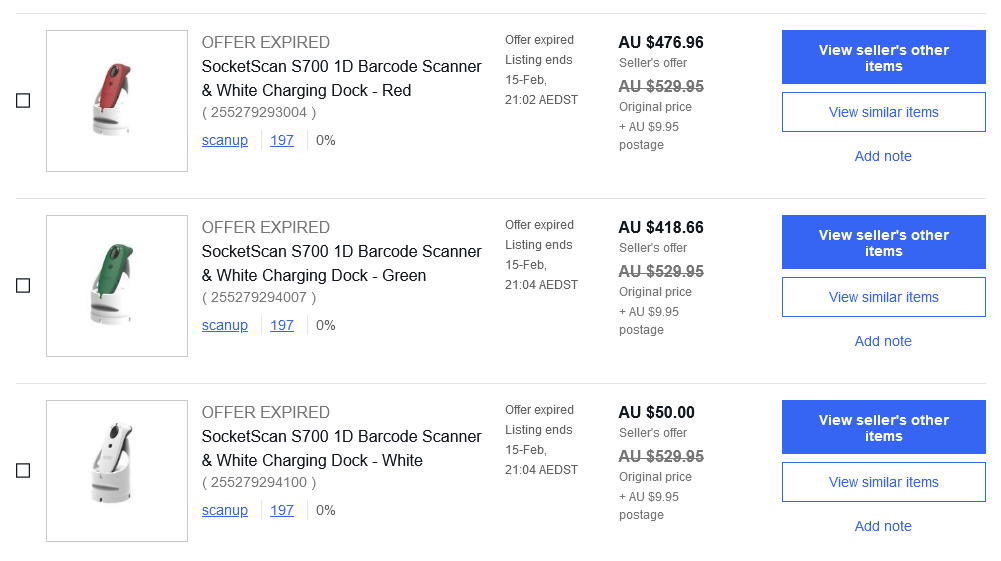 Changing Plans Between Standard & Pro
The app standard plan lets you create one campaign. If you would like unlimited campaigns you can upgrade to pro plan by going to account page.
You can downgrade to standard plan from accounts page if you only require 1 campaign and are subscribed to pro plan.