Bundleup lets you turn your existing products into bundles or create brand new products that are built from different products. When an order is received that contains an order line that is a bundled product the app will split the order line to each component.
https://apps.shopify.com/bundleup
On this page
Before Starting
Sync to Bundleup
Bundle Products
Unbundle Orders
Sync Inventory
Order Logs
CSV Bulk Upload
Download Bundles in CSV
Schedule
Common Errors
Before Starting
The app requires unique SKUs on all products and variants to maintain accurate syncing. Please ensure you have unique SKUs set up on all products and they are not duplicated on different products or variations.
If you need to change SKUs or update variations the products will need to be deleted from the app and reimported by clicking the Sync to Bundleup button.
Sync to Bundleup
To get started please install in from Shopify app store and navigate to Apps > Bundleup
On the settings page you can sync your existing Shopify products for editing within the app.
Bundle Products
After you have imported your Shopify products into Bundleup you go to Bundle Products link within the Bundleup app navigation bar.
To add components to an existing product click on any product

and then click Add Bundle Component. This will bring up a pop up where you can search by name or sku for the products you wish to add as components. You can add multiple products as bundle components.

When adding components be careful you do not add a product that holds variants. Only the individual variants can be added as components. If you add the parent product the processes will fail for the bundle.
You can also search in the Bundle Product page and select a number of products to add to another product as bundle components. After you select all components you want to add click Bundle Selected button. You will be presented with a pop up where you search for the product you wish to add these components into.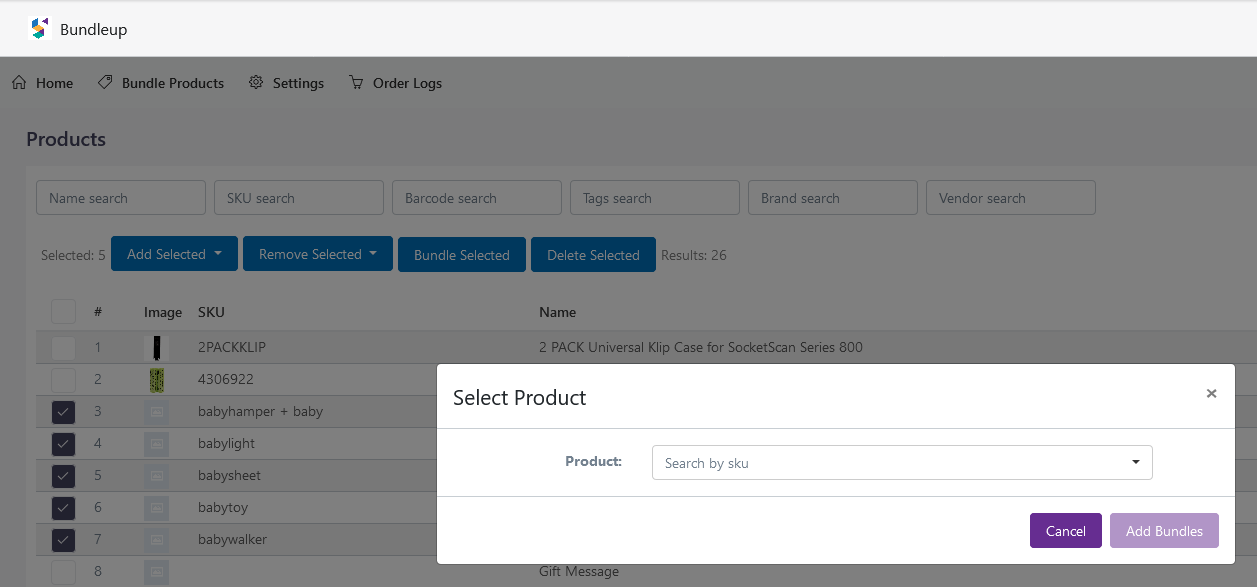 Unbundle Orders
To configure which settings you would like to use go to the Settings page.
To unbundle orders you switch on the service under Settings page by ticking the check box > Save > Start buttons. After creating an order for a bundled product the service will run on next schedule time and split the order into the bundled products individual component order lines.

Sync Inventory
The app offers the ability to calculate the inventory available of bundles based on the quantity of components. You can switch this on from the Sync Inventory page and your bundled SKUs stock level will start being recalculated.
This is ideal when you link the same product to multiple bundles. When one bundle sells all the other bundles link to a sold SKU will also get updated after purchase is completed.
To switch on this feature go to Setting page and tick the Sync Inventory check box then click Save.

Order Logs
You can view orders that have been processed on this page.
The bundle status column indicates what level the order was processed to:
No bundles found - no bundles on order
Exported - unbundled and Shopify order was updated
Debundled - unbundled but order lines could not be updated on Shopify
You can click into an order and view how the order lines have been split.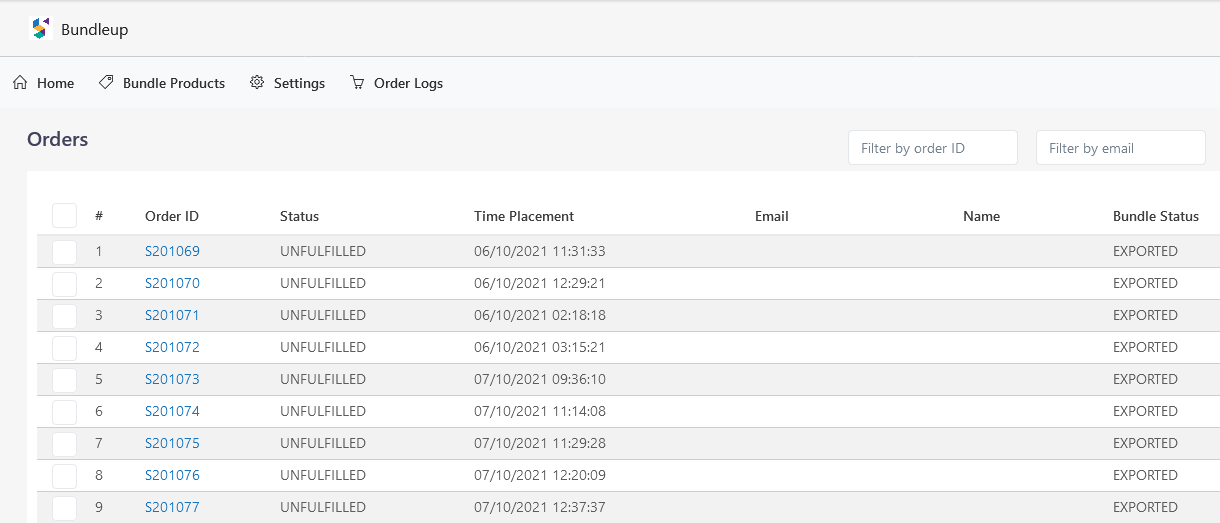 CSV Bulk Upload
If you have a large number of products and/or bundles you may find it easier to upload via a CSV file.
Example template can be downloaded from here.
The structure of the csv import file is as follows:
handle: the the handle of the product. For products with variations the same handle will be used for all variations.
variant sku: the SKU of the variation.
components: a list of product SKU's and the Quantity separated by a colon. Multiple entries can be made separated by semi colons. Example: babylight:1;babysheet:2;babytoy:1
To upload the file go to Bundle Products page and click Upload Product Bundles button.

Download Bundles in CSV
Log into Bundleup app.
Go to Products page.
Click Download Products
Open file and first 3 columns make up the bundle csv file. Delete all other columns
Sort by components column to find your bundles. You can delete rows that contain no bundles.
The file won't work if you have more than three columns.
The order of columns needs to be: handle, variant sku, components
Schedule
The inventory and order unbundling processes run every 5 minutes.
Common Errors
Price discrepancy after unbundling
If you update price on Shopify the price in Bundleup may be different when processing orders. We sync data automatically each day however if you would like to sync earlier click sync button.
We discount the component prices but in some cases the discount cannot match the original total. If these discrepancies are common we suggest you use our keep bundle option and mark all components at zero price.
Order unbundles but Shopify doesn't update
If component prices are cheaper than bundle total then we are unable to update order as the totals will be different.
When you update products or variations on Shopify our sync may break. We recommend deleting the product from Bundleup that you have changed on Shopify and clicking Sync to Bundleup button to import it back. You can then set the bundle up again or use a csv file to recreate all your bundles.
Multiple variants are created
If you add or edit your variants on Shopify this can cause new variants to be added to the app.
If you add or change the SKU of variants this can also create duplicate variations in Bundleup. We recommend deleting the product from the app and resyncing the product.